A really bad nights sleep, well don't think I slept, Mike definitely didn't. We spent the night in a hotel, a nice clean room but yes it's a budget hotel. The walls are paper thin and the room next to us were really noisy, music all night and people coming and going. Loud knocking on their door, heavy footsteps and loud conversations in Chinese . Not sure what was going on but what ever it was I'm sure it could of been done with a lot less noise.
Anyway up we get at 4:30 am ready for the shuttle bus to the airport not a problem. Managed to get that and we were the only ones on the bus nice and early for the check in.
At the airport we checked in hand luggage only, we are allowed one bag to go in the over head storage and one bag under the seat. We have less stuff going back and it wasn't a problem coming so why leaving is it. They weigh our luggage and tell us that we have to pay $75 to check them in the hold. Money grabbing gits
The flight is 7am but it's delayed, we finally take off at 9:30 am a three and a half hour bumpy, boring flight, no entertainment just sit and stair at the back of the chair in front. What joy.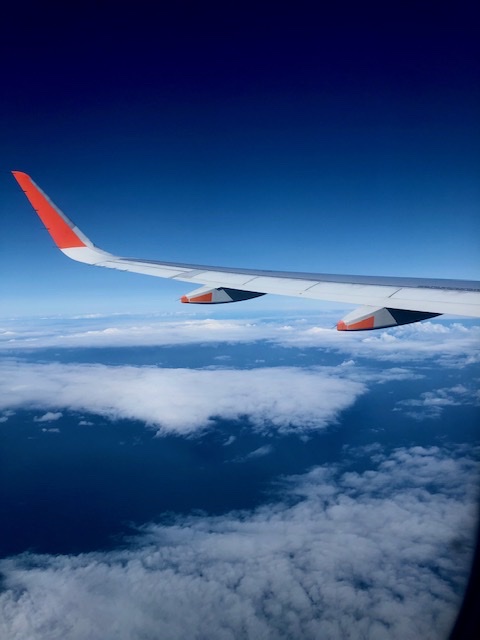 The landing was pretty bumpy I thought that we were going to over shoot the run way. Mike recons it was a manual landing because it was so rough, but hay it's a adventure I tell you.
Back in Australia and funny we had only been here for 3 weeks before we went to New Zealand but it felt like we were home. We picked up our hire car and drive to Kate's house and pick up our bikes from her garden, frightening her poor daughter who she thought we were burglars sorry.
Next stop we had arranged to meet a face book friend mark. Mark lives in Sydney and is a keen cyclist, he has been following our face book page and offered a place for us to stay. Thank you mark. But as it happens we also had been offered a place to stay by someone else I love the power of the internet. Anyway we met mark and he very kindly brought us lunch and gave us a idea of a cycle route to do on our next tour.
After leaving mark we make our way to madeleines house our home for the night. Madeleine is also a complete stranger from internet land who offered us some where to stay.
Madeleine and family are lovely made us so welcome. We have our own room with en-suite in a beautiful house with a swimming pool. That's it I'm moving in squatters rights. A lovely evening with delicious home cooked food and plenty of drinks the conversation was flowing. And funny but it's been a long day and with the time difference it's even longer not wanting the evening to end we reluctantly went to bed.
We loved it so much we are staying another night. We not going with out a fight!